Cuff Information
Correct Cuff for Accurate Blood Pressure Readings
Using the correct cuff size is critical to obtaining an accurate blood pressure reading. All Walgreens® Arm Blood Pressure Monitors include a cuff.
UltraSoft™ Upper Arm Cuff, One Size Fits Most
The Deluxe and Premium Arm models come with one UltraSoft™ Upper Arm Cuff. This improved cuff is made with softer fabrics to provide a more comfortable fit, while still providing dependable blood pressure measurements you can trust. This cuff works on virtually all arm sizes, covering the same range as the Standard and Large cuffs do together.
Standard Size Arm Cuff
Finding out your cuff size is easy. First, apply the cuff to your upper arm. If the colored arrow falls within the solid colored line while it's wrapped around your arm, then you've got the correct cuff!  If the arrow falls outside of the solid line, please call our Consumer Relations team to purchase a larger cuff.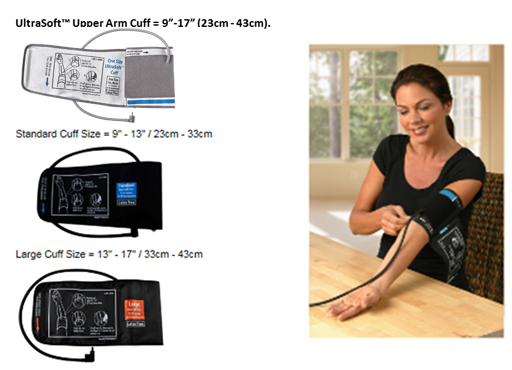 NOTE: The Automatic Arm Blood Pressure Monitor only includes a Standard Size Arm Cuff. If a larger cuff is needed, please contact HoMedics© Consumer Relations at 1-800-466-3342 to purchase a larger cuff.
©UltraSoft™ is a trademark of HoMedics, LLC. 2022 HoMedics, LLC. All rights reserved.